Great savings on polythene for Irish customers
Polythene.ie is a dedicated website from Polybags.co.uk - the UK's number one polythene manufacturer - providing Irish customers with a huge range of polythene packaging and great savings on large orders.
We are very pleased to offer our Irish customers a massive range of fantastic polythene products - plus a market-leading selection of compostable, recycled or other eco-friendly alternatives - with excellent rates for those who buy in bulk.
Buy in bulk and save
Whilst post-Brexit regulations have lead to an increase in delivery charges for small orders - due to new customs procedures and increased courier costs - Polybags' Irish customers who buy in bulk can still make great savings.
In fact, if your order is over £180 then delivery to Ireland is completely FREE!
What's more, the current currency markets work in the favour of our Irish customers, as Sterling's weak position versus the Euro means that every one of your Euros goes even further!
Add to that a simple-to-use website, fast delivery and a five-star rating from over 10,000 customer reviews on Trustpilot - the world's leading independent review platform - and your polythene needs are covered. Welcome to Polythene.ie!
Polythene and poly bags - the perfect packaging combo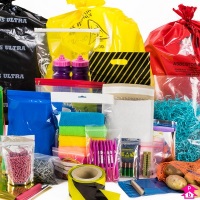 Whether you are shopping for polythene film on the roll or any of a huge range of polythene bags, then we've got you covered.
Polybags are manufacturers, so we can cater for your every polythene packaging need, whether you require stocked products available ready off-the-shelf or bespoke products made-to-measure to suit your specific needs.
We have over a million polythene bags in stock, along with a fantastic selection of plastic sheeting, poly film and layflat tubing on the roll.
We can't list our full product range here, but below you'll find outlined a few of the main types of polythene film and tubing popular with Polybags customers.
Polythene rolls
The term polythene rolls, or poly rolls for short, is used to describe a huge range of polythene film, tubing and sheeting on the roll - i.e. polythene wrapped around a cylindrical core that is dispensed by simply turning the roll and lifting the polythene.
The term covers a range of plastics serving a variety of purposes, from high clarity polypropylene display film - used to make retail products sparkly - to thick damp proof membrane - as used to provide a damp course in the building industry.
Wide sheeting
Often called builders rolls because of their popularity within the building trade, these sheets of polythene provide excellent protection for floors, surfaces and items of furniture during building and renovation work, such as painting and decorating. Sold on a 1m wide roll, builders rolls are available in clear or black sheeting and in medium or heavy duty options, folded either double or 4-fold across the roll.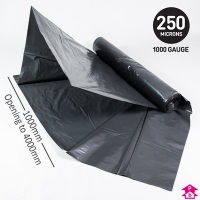 Damp proof membrane
Extra thick polythene sheeting used in the construction industry to help keep moisture out of building interiors.
Damp proof membrane, also known as DPM, is a membrane used as a crucial part of a damp proof course - a means of moisture control applied to floors and walls to keep moisture out of the building.
Damp proof membranes are made from recycled black or blue polythene and have a minimum thickness of 1,000 gauge. All membranes sold by Polybags are approved by the British Board of Agreement (BBA) for quality control.
Shrink pallet covers
Shrink covers are popular in the haulage industry for securing stacks of goods onto pallets to keep them stable during transportation or storage. Made from high-strength polythene, shrink covers are placed over the top of the goods and the pallet itself before a shrink gun is applied slowly across the whole surface of the cover. The heat from the shrink gun causes the polythene to contract, tighten and shrink tight, thus securing the contents to the pallet.
Display film rolls
Polypropylene film provides a crystal clear wrapping guaranteed to provide some added sparkle to retail products on display. Polypropylene is superior alternative to cellophane, as it provides higher clarity, greater strength and is cheaper.
When sold on the roll, polypropylene display film provides a handy way to wrap items of different shapes and sizes, which you can fasten with ties, ribbons, staples or a heat sealer. If you'd prefer to use bags rather than film, Polybags stocks a huge range of glossy display bags available off the shelf and ready to go at wholesale prices.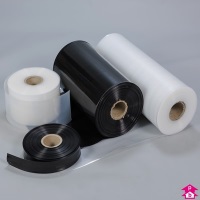 Layflat tubing
Polythene tubing, also know as layflat tubing or poly tubing, provides a handy and economical way to package or enclose objects of a similar width but varying lengths, or difficult-to-bag items such as plants, posters and light tubes.
Sold on the roll as per regular polythene film, layflat tubing is effectively a tube of polythene laid flat and wound around the core of a roll.
To wrap a product, simply insert it into the tubing, unwind the roll and cut to the required length, before heat sealing or taping one or both ends to create your own bag, either sealed or open.
Polybags stocks a huge range of layflat tubing in a variety of sizes, thicknesses and types of polythene, whilst we can also manufacture tubing to bespoke requirements. We also sell manually operated heat-sealers to permanently seal your wrapped goods.
Layflat tubing can be made from a huge range of polythene to suit a variety of tasks. Here are a few of the more popular types:
Low density polythene tubing - This film is made from 100% virgin low density polyethylene. The use of virgin polyethylene means it can be used for food packaging and service. Tubing can be heat sealed, stapled or taped at either one or both ends. Supplied on 12" diameter rolls (3" core).
Pink anti-static poly tubing - Surface resistivity of 1012 ohms/sq.in. Amine-free, pink anti-static tubing (PAS, pictured below) is an excellent choice for protecting sensitive components from static discharge and is ideal for packing circuit boards, resistors and other electrical components. Supplied on 12" diameter rolls (3" core).
Clean room tubing - Clean room tubing usually manufactured in a certified class 100 clean room. This stock clean polyethylene tubing is produced from barefoot resin that meets FDA &EFSA standards. It is wound on plastic cores and double bagged for added protection.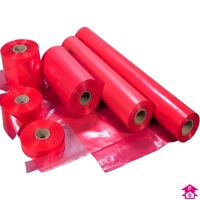 Black poly tubing - Produce tailor-made polythene bags to suit specific product requirements and keep your products concealed and confidential, using opaque black polythene layflat tubing.
Autoclavable layflat polypropylene tubing - Heat-resistant material which emits less odor when autoclaving. High gloss, transparent tubing, ideal for medical, dental, lab, or food service implements. Meets FDA and European specifications for food contact.
Polythene shrink film tubing - Inexpensive tubing which fits any shape. Simply insert item into tubing, heat seal ends and shrink with a heat gun. Protects from moisture, dirt, and tampering.
Black conductive tubing - Blow extrusion, black volume conductive tube material is produced in 150m rolls in 400 gauge polythene as standard, although 300 and 600 gauge are available on special orders. Made using black carbon impregnated into film to create an extra strong static barrier, black conductive tubing is ideal for light-sensitive products and explosives. Meets Faraday Cage protection for electronic applications.
UVI layflat tubing - Low density polythene with an added Ultra Violet Inhibitor (UVI) to extend life of the product in sunlight conditions.
EVA layflat tubing - Ethylene Vinyl Acetate (EVA) tubing in which an EVA additive is added to strengthen and improve sealability. Appropriate for use in cold-temperature applications.
Some common views on polythene bags in Ireland
Polybags: polythene suppliers sheeting
polythene suppliers sheeting is optimal for wrapping products in storage or transit and for protecting furniture and floors when decorating. Widely used in plenty outdoor tasks for instance in building work, plant protection, cool frames, ground work, greenhouses etc.
polythene suppliers Tubing supplier in New Delhi
polythene suppliers Tubing Rolls Shriram Plastics Sonipat
Hang Up Garment Covers
hang up garment covers folding suit cover bag folding suit cover bag suppliers and manufacturers at hang up garment covers business opportunity .
120 Litre (medium) uniform for a 2-3 person household. Fits approximately:2 x 60L waste bags
Arkansas state law prohibits the disposal of yard waste (leaves, grass, brush clippings, flowers, etc.) in landfills. To receive curbside select-up of your yard waste, you must purchase Waste Management's green yard waste bags for this service . The yard waste bags may be purchased at the Farmington City Hall, 354 W. Main, Mon.-Fri., 8 Polybags 5 Polybags, there will be a charge per bag.
In order to establish the true value of bubble wrap for hypothermia prevention in prehospital care, a randomised proper-life experiment is required.
Carrier bags: why there's a charge
Updated to display information about the 10p charge for single-use carrier bags from 21 May 2021.
Very Product Display Bags &XY97
Wonderful Product Display Bags from Mainetti VC37 – origin: Polybags
GSSUSA Paper Bags 8x4.75x10.5 25Pcs Gift Bags,Party Bags,White Kraft Paper Bags,Retail Bags,Shopping Bags,White Paper Bags with Handles 100% Recyclable Paper
By no means give anybody your SSN when Buying GSSUSA Paper Bags 8x4.75x10.5 25Pcs Gift Bags,Party Bags,White Kraft Paper Bags,Retail Bags,Shopping Bags,White Paper Bags with Handles 100% Recyclable Paper. No website requirements similarly info to be able to market you a few thing. It's a rip-off if they want your Ss #. Invest a small more on the website that will not market your sociable to the greatest bidder.
Grey Mailing Bags Strong Poly Postal Postage Post Mail Self Seal All Sizes Cheap Grey Mailing - £151.99
Postal Postage Mailing Grey Bags Mail Seal All Poly Sizes Cheap Self Strong Post Bags Self Mailing Poly Seal Grey Strong Sizes All Postal Cheap Post Mail Postage Grey Mailing Bags